Free Fouad al-Farhan!
Mood:
incredulous
Topic: War on Terror
"You cannot expect people to believe in the promise of a better future when they are jailed for peacefully petitioning their government. And you cannot stand up a modern, confident nation when you do not allow people to voice their legitimate criticisms."
--- George W. Bush spaking in the UAE, Jan 13 2008 [CNN]
I don't mean to be turning this blog into an anti-Saudi type of thing, but but they've really been getting on my nerves lately. The latest case to enrage me is the story of the Saudi blogger Fouad al-Farhan who was arrested by Saudi authorities this past December, according to Saudi top cop Maj. Gen. Mansour al-Turki, because he violated the regulations of the kingdom" (whatever that means). Al-Turki tells CNN "He is being interrogated for local violations. The violation is not a security matter."
On jan 3 State Department spokesman Sean McCormack said the US government had raised the issue with the Saudis and the US Gov. made it "pretty clear" that "the United States stands for freedom of expression. It's an important element of any thriving society. It's a cornerstone of any democratic society."
McCormick says the message was conveyed in Washington to the Saudis "at a relatively senior level," but apparently the issue didn't rate high enough for Condi to get involved. AFP report that, "[McCormick] said it was it was from someone like an assistant secretary of state or a deputy assistant secretary of state." Why not the janitor or the yard guy for all the good it did?
Gosh, no wonder Faoud is still incommunicato, with friends like these . . . Naturally, who are we to lecture the Saudis about holding people without charges for months, when we've been holding hundreds of prisoners, many of them Saudis, for years at Gitmo. This is where our tarnished reputation kind of gets in the way. Thanks John Yoo and David Addington, nice company you keep.
So anyway, our good friends the Saudis got themselves one of those dangerous bloggers, the GWOT is almost won! Well worth the zillions in weapons sales W. just poured into the royal family's bank accounts.
No one seems quite sure why he was arrested but the Independent, who called for president Bush to interceed on his behalf the day he met with King Abdullah -- which, if he did at all, fell on deaf ears -- reports:
"It is unclear what Mr Farhan did that put him firmly on the radar of the Saudi authorities. It could have been the fact that in 2006 he complied with a request to stop blogging but then came back with a vengeance in July last year, with a posting 'Why do we blog? Here's 25 reasons' and ignored subsequent warnings. It may have been the fact he blogged in Arabic rather than English and so was reaching a wider domestic audience."
Al-Qaeda does that too, but they don't seemed to be all that concerened about that, as long as OBL & Co. focus all their rage on us and our allies. In any case, despite all the calls for Faoud to be released the Saudis are remain mum on the subject.
CNN reports:
"A top Saudi blogger who was jailed late last year remains in prison more than two months later for unspecified, non-security matters — and there are few signs that he will be freed anytime soon. . . The Saudi government has been extremely quiet about the detention of Fouad al-Farhan, a 32-year-old father of two who has become a rallying cry for bloggers. Al-Farhan — known on the Internet as the 'Dean of Saudi Bloggers' — was arrested on December 10 shortly after one of his blog entries was critical of influential Saudi religious, business and media figures. 'He is still being investigated,' Maj. Gen. Mansour al-Turki, a spokesman for the Interior Ministry, told CNN this week."
An article in the WaPo in 2006 quoted Farhan, who is a computer programmer who attended Eastern Washington University in Spokane, saying "You can't write whatever you want in the newspaper here; you can't even lift up a poster in protest, on the blog, it's a different world. It was the only way to express myself the way I wanted."
What planet is this guy living on? Probably one of the big reasons Faoud was arrested is because he dared use his real name. The Saudis aren't too good with rounding up bloggers who use pseudoyms. Because there are a lot of Saudi bloggers, my favorite being "Alhamedi Alanezi" (not his real name) the Religious Policeman, who unfortunately isn't blogging anymore, he's writing a book supossedly. And when he was blogging he was in London, a smart move where the thin-skinned royal family is concerned.
You know, the Saudis shouldn't be getting so upset about a few bloggers writing when there are so many more of their fellow countrymen going out to kill Americans, their good friends and customers. Reuters reported, about the same time Fouad got arrested, that:
"Most al Qaeda fighters in Iraq are from Saudi Arabia and Libya and many are university-aged students, said a study released on Wednesday by researchers at the U.S. Army's West Point military academy. The study was based on 606 personnel records collected by al Qaeda in Iraq and captured by coalition troops in October. It includes data on fighters who entered Iraq, largely through Syria, between August 2006 and August 2007."
Note that the second highest number of jihadis entering Iraq are from Libya, our other good friend Moammar Kadafi, who is considered to be a statesman these days by the likes of Tony Blair and French president Nicholas Sarkozy.
Sign a petition for the release of Faoud alFarhan at aicongress.org which is addressed to, Prince Saud Al-Faisal, Saudi Foreign Affairs Minister, Adel Al-Jubair, Ambassador of Saudi Arabia to the US,Nicholas Burns, US Undersecretary of State for Political Affairs and Ford Fraker, US Ambassador to Saudi Arabia. [He'll be a big help!]
I'm sure that'll do a lot of good, but we have to do something, governments just can't go around arresting bloggers and journalists, right? It's that whole Freedom Agenda thing W. is always talking about.
With friends like these . . .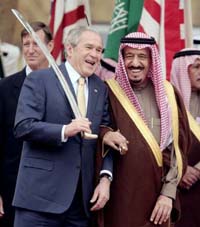 Posted by bushmeister0 at 4:42 PM EST